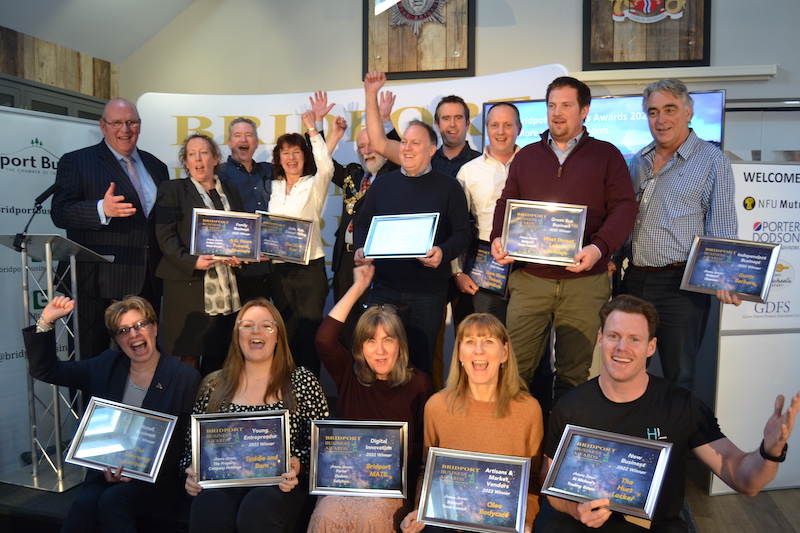 Bridport Business Awards 2022 – The Winners!
The results are in – the Bridport Business Awards 2022 were awarded at a packed-to-capacity ceremony celebrating the best of local business, from start-ups to long-established names.
Hearty congratulations to all the Chamber Members who went home with an award.
West Dorset Leisure Holidays (Highlands End Holiday Park) took the award for Green/Eco Business of the Year and the overall Best Business title.
Chamber Vice-President and Secretary Debbie Bond was awarded the Digital Innovation Award for Bridport MATE and long-standing Chamber members Karen and Julian Hussey of AG Down went home with the Best Family Business accolade.
Gavin Dixon Finance Solutions won Service Provider of the Year and The Alleyways Antique Centre is Retail Business of the Year.
Nigel Reeve, of Marketing West, which ran the Awards said: "The awards continue to increase in popularity. This is the third year of these awards and entries grow year on year.
"However, within this, there are interesting trends. Three years ago interest in the Green/Eco category was low. Now it's a category with one of the highest number of entries.
"We have to acknowledge the huge support we have received from local businesses, the Bridport Chamber and the Bridport Town Council. This support has ensured these awards have become a major event in the local business calendar."
Sponsors and entrants gathered at Highlands End Holiday Park for the Awards presentation on 17 March. You can watch it on YouTube here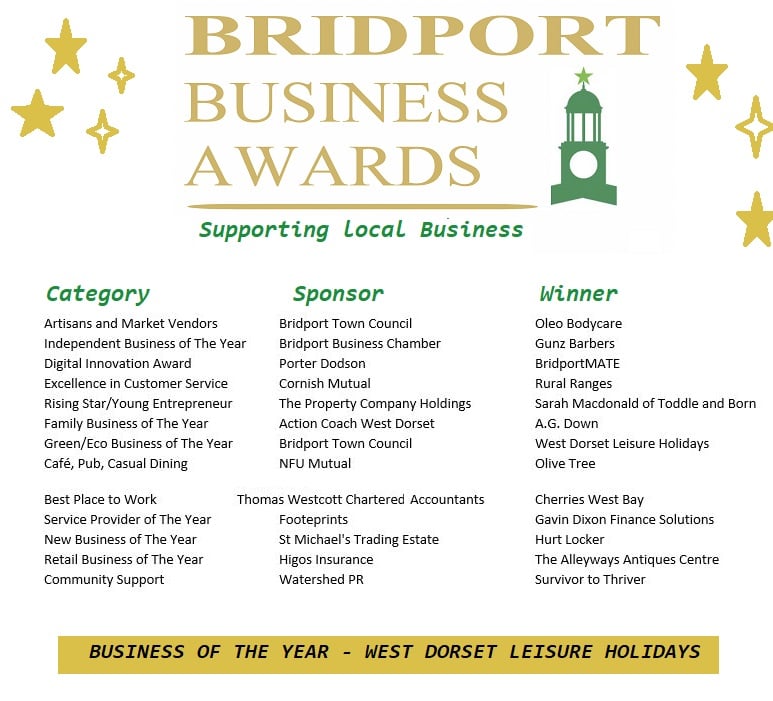 Full list of winners and sponsors:
1. Artisans and Market Vendors, sponsored by Bridport Town Council. Oleo Bodycare
2. Independent Business of The Year, sponsored by Bridport Business, The Chamber of Trade and Commerce. Gunz Barbers
3. Digital Innovation Award, sponsored by Porter Dodson. BridportMATE
4. Excellence in Customer Service. sponsored by Cornish Mutual. Rural Ranges
5. Rising Star/Young Entrepreneur, sponsored by The Property Company Holdings. Sarah Macdonald of Toddle and Born
6. Family Business of The Year, sponsored by Action Coach West Dorset. A.G.Down
7. Green/Eco Business of The Year, sponsored by Bridport Town Council. West Dorset Leisure Holidays
8. Café, Pub, Casual Dining, sponsored by NFU Mutual. Olive Tree
9. Best Place to Work, sponsored by Thomas Westcott Chartered Accountants. Cherries West Bay
10. Service Provider of The Year, sponsored by Footeprints. Gavin Dixon Finance Solutions
11. New Business of The Year, sponsored by St Michael's Trading Estate. Hurt Locker
12. Retail Business of The Year, sponsored by Higos Insurance. The Alleyways Antiques Centre
13. Community Support, sponsored by Watershed PR. Survivor to Thriver
14. Overall Business of The Year. West Dorset Leisure Holidays