Telecommunications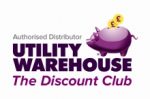 Long Business Description:
Hi, I'm Grant and I'm proud to have become a local (Bridport) business owner, passionate about helping local residents and fellow business owners save money
on their essential utilities and receive the customer service they deserve. The Utility Warehouse Discount Club refuses to waste their members' money on expensive advertising; therefore my business operates on a word of mouth and referral basis. This results in regular independent endorsements by "Which" magazine, Moneywise magazine and the Institute of Customer Service.
As well as Savings, Simplicity and Service the Club offers additional benefits including: unlimited cash back on shopping, free LED bulb lifetime replacement service, no minimum term contracts on most services, one simple bill and up to £200 to help you break expensive contracts into which you may be tied.
With the Utility Warehouse your telecommunication and energy needs can be conveniently supplied together.
Being a retired police officer I particularly value the ethical, local and personal touch.  I regularly promote my business with a trade stand at Bridport Street Market. Please stop and say hello!